Welcome to our Northfield Family
New Starters Information September 2020
We are really looking forward to you joining our Northfield family and hope this page will provide you with all the information you need before starting in September. We are so sorry we have not been able to hold our usual transition events this year due to the Coronavirus school closures but rest assured we will do everything we can to ensure your child has the most fabulous time here with us and we will give them the best start to their school journey. If you have any questions please do not hesitate to contact us on 01377 257487 or email to northfield@eastriding.gov.uk
A Typical Day in our Foundation Stage
Although everyday will be different and exciting in lots of ways the photographs below are intended to show you what a typical day in our Foundation Stage is like; what the different areas and activities are and some of the events which will hopefully take place throughout the year.
Foundation Stage Staff
Here are the people who work in Foundation Stage. Although they are each linked to either the Butterflies or Ladybirds classes they will all help and work with you at some point throughout the week.
Butterflies Class
Where will I come in?
Each morning you will enter through the door towards the rear of the school which is our Foundation Stage entrance. This is where you will come in and hang up your coat on your peg, which will be labelled with your name and a picture.
Where do I keep my book bag and other things?
You will have your own drawer near the carpet area in your classroom. This is where you will put your book bag and anything else you need to keep safe throughout the day.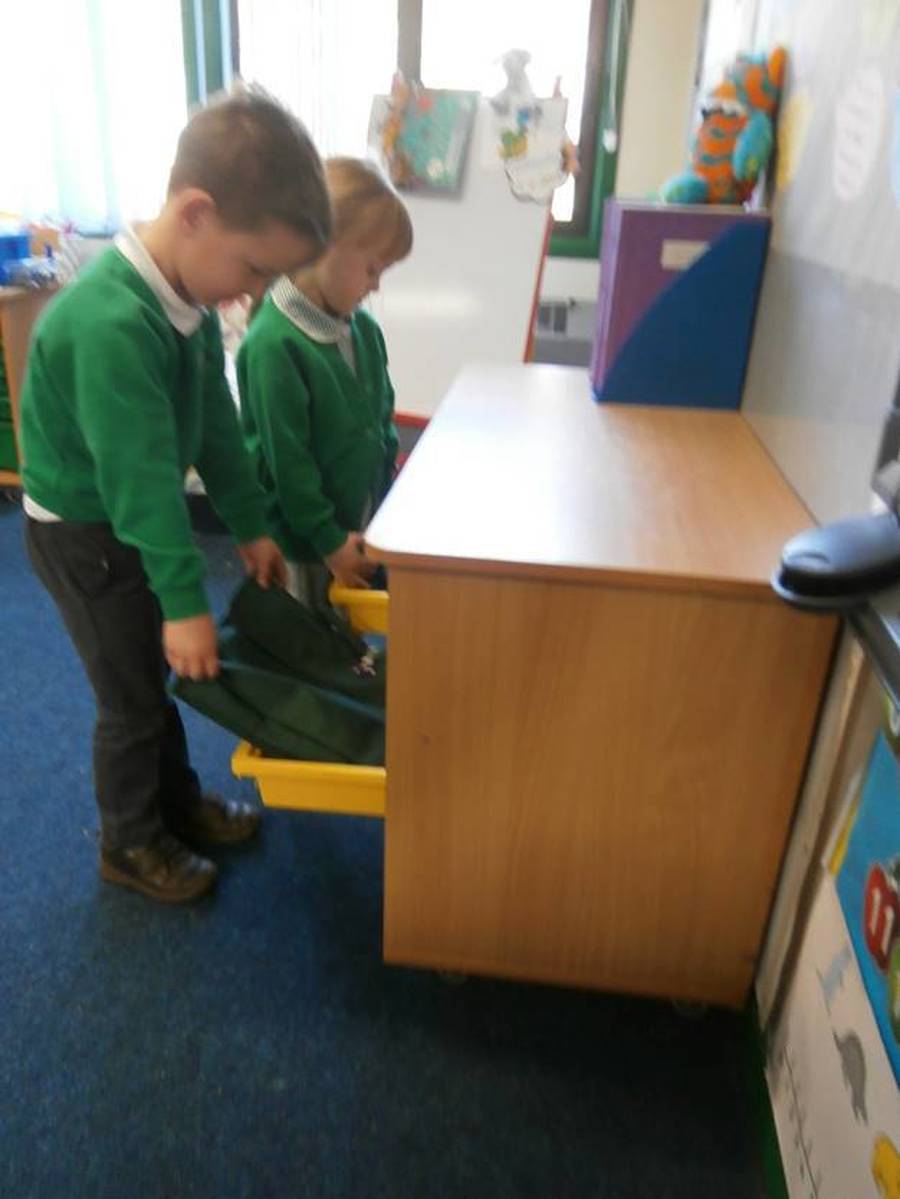 What will I be doing during the day?
There are so many exciting things happening everyday in all the areas of the classroom. The day usually starts with the class altogether welcoming each other, checking who is here and what we are all doing for lunch. There will then be some direct teaching from your teacher which will focus on maths, literacy or phonics. You will then have the opportunity to play with your friends in the different areas of the classroom whilst small groups of children work with an adult on a short task. While you are playing in the areas you will do lots of learning activities which the adults have planned to teach you new things or help you practice skills you have learnt before. These activities change regularly and usually link to the topic for that week.
We spend time during the day inside the classroom and in our lovely outdoor area. Throughout the day you will take part in teacher led activities, small group sessions and in self-chosen play activities. We also take part in activities in the hall including sessions with sports coaches and visitors.
Snacktime and Lunchtime
Each morning everyone enjoys snack time where we eat delicious fresh fruit and have a drink from our water bottles. We will provide you with a school water bottle which will be sent home each day to be washed and filled with fresh water ready for the next day.
We have lunch together in the hall. We provide all children with a free hot meal, as meals are funded by the Universal Infant Free School Meals offer, however if you prefer you can send your child with a packed lunch from home. We just ask that these do not contain fizzy drinks, nuts (due to allergies) and grapes or other small objects which could be a choking hazard are cut up. Lunches are ordered each day so we just need to know what you would like at registration each morning.
Here is the menu for the first half term in September. Unfortunatley due to restirctions in the kitchen that provides our lunches this will be a weekly menu rather than the usual 3 week menu. We will let you know when this changes.
Home Time
After a very busy day your parents will meet you at 3.20pm at either the Foundation Stage entrance (Butterflies) or at the side door near the gazebo (Ladybirds) when you can tell them all about your day's adventures!
Special Events
We love to hold special events throughout the year. These include dressing up for World Book Day, visits to Wold Gymnastics Club, performances and trips out. below are some photographs of some of our past events.
More Information
We understand that you will probably have more questions which we are more than happy to help you with. Below are copies of the Foundation Stage booklet and prospectus which may help to answer some of those questions but at anytime please feel free to give us a call (01377 257487) and we can chat with you about any concerns or worries you may have.